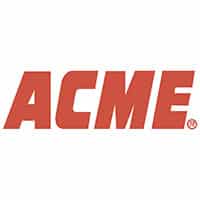 Acme is a retail supermarket chain at the heart of the United States with the aim of providing quality food supplies to their customers. Through energetic and diligent efforts from the founders, Acme has developed into a very successful company today. It is not by chance that All Acme Hours will be the same.
Just like its Pharmacy store, the Acme grocery retail store follows a standard opening and closing hours period.
ACME HOURS

MONDAY
7 AM - 10 PM
TUESDAY
7 AM - 10 PM
WEDNESDAY
7 AM - 10 PM
THURSDAY
7 AM - 10 PM
FRIDAY
7 AM - 10 PM
SATURDAY
7 AM - 10 PM
SUNDAY
7 AM - 10 PM
All Acme Fresh Markets are open from 7 a.m. to 10 p.m. from Monday through Sunday.
There are changes during holidays though. On Memorial Day, 4th of July, and Labor Day, Acme Fresh Markets open at 7 a.m. and close at 10 p.m. The opening and closing hours on Easter and Thanksgiving Day are from 7 a.m. to 2 p.m., while opening and closing hours for Christmas Eve are from 7 a.m. to 6 p.m. On New Year's Eve and New Year's Day, Acme Fresh Markets open at 7 a.m. to 8 p.m. and 10 a.m. to 7 p.m. respectively. However, Acme Fresh markets remain closed on Christmas Day.
Acme Near Me
In order to find Acme Locations you can use the "near me" map below.
Another method is to visit the Acme Website. Click here for the searchable list of all Acme Fresh Market locations available along with contact information.
Acme is the second largest food retailer in Delaware Valley and were even rated the number one food retailer for many decades in the Greater Philadelphia even in the presence of strong competition.
The spirit of accepting evolving trends in order to modernize the business approach of Acme Fresh Markets and Pharmacy has ensured they have remained at the top for so long. Adaptation has always been a part of the business plan to provide customers with the best possible grocery treat.