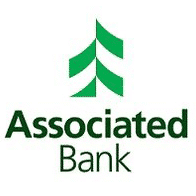 Associated Bank has strong relationships with their community. Many of their offices have been around since the late 1800s. They value tradition and diversity in their community and workforce. Their colleagues are encouraged to be a part of their Associated's Roots in Our Community volunteer program and join in the community. This culture of giving extends to charitable donations as well. Their corporate structure if focused on creating affordable housing, providing economic development of small businesses, and revitalizing and stabilizing nearby neighborhoods. The company also strives to support arts, education, and similar programs.
Associated Bank is open every weekday (Monday through Friday) from 9 am to 5 pm. Saturday hours are from 9 am to 12 pm. They are closed on Sunday. These are just general hours and do vary by location and on holidays.
ASSOCIATED BANK HOURS

MONDAY
9 AM - 5 PM
TUESDAY
9 AM - 5 PM
WEDNESDAY
9 AM - 5 PM
THURSDAY
9 AM - 5 PM
FRIDAY
9 AM - 5 PM
SATURDAY
9 AM - 12 PM
SUNDAY
Closed.
What time does Associated Bank open?
Associated Bank closes at 5 pm every day Monday through Friday. On Saturday they close at noon.
What time does Associated Bank close?
The bank opens at 9 am every day. They are not open on Sundays.
Holiday Hours:
In 2020 Associated Bank will be closed for 10 holidays. They are not necessarily closed on the holidays, but these are the days the holidays are observed, and the bank is closed.
| | | |
| --- | --- | --- |
| Date | Holiday | Day of Week |
| January 1 | New Year's Day | Tuesday |
| January 20 | Martin Luther King Day | Monday |
| February 17 | President's Day | Monday |
| May 25 | Memorial Day | Monday |
| July 4 | Independence Day | Saturday |
| September 7 | Labor Day | Monday |
| October 12 | Columbus Day | Monday |
| November 11 | Veterans Day | Wednesday |
| November 26 | Thanksgiving | Thursday |
| December 25 | Christmas Day | Friday |
Associated Bank Near Me
Below is a map you can use to find a Associated Bank near you. The map will show you all the Associated Bank locations. Their headquarters is located in Green Bay Wisconsin. There are over 200 locations throughout Illinois, Minnesota, and Wisconsin.

It is important to know the locations so you can do your banking at the most convenient spot. Also, if you're traveling, you may need a Associated Bank in an area you're not familiar with. Knowing where branches of your bank are located is helpful if you need an ATM or other

'; echo '