B&Q has a total of 297 shops across the UK. It has opened 288 stores till now and the nine stores that are located in Guernsey and Ireland are also open to the public. Here are the B&Q opening times and closing across the UK.
B&Q Opening Times

MONDAY
07:00 – 20:00
TUESDAY
07:00 – 20:00
WEDNESDAY
07:00 – 20:00
THURSDAY
07:00 – 20:00
FRIDAY
07:00 – 20:00
SATURDAY
07:00 – 20:00
SUNDAY
10:00 – 16:00
One thing to remember here is that these are general timings and some stores timings may vary depending on the location of the branch. However, the only difference will be of an hour so the main timings are the ones listed above.
Opening hours of B and Q
Weekdays
B&Q will be open between the hours of 7 am – 8 pm on weekdays so that people can fulfil their supply needs.
Weekends
On Saturday, the B&Q stores will operate between the hours of 7 am – 8 pm.
On Sunday, the B&Q stores will operate between the hours of 10 am – 4 pm.
B&Q opening hours differ from store to store across the UK. Please double check your local store.
Slowly many DIY chains have started reopening across the UK, after COVID-19. Of course, there have been many changes so that these stores can operate in a way that is safe for the employees and everyone else. At first, B&Q was only open for home and delivery and pick up. However, the doors have been reopened for the public.
B&Q Delivery
B&Q is giving customers the chance to shop online and collect their orders from the branch. Initially, this was a next day service. However, since the store has opened its doors to the public the goods are in high demand. This is why this may also take a few days now.
If you are placing an order through this, then B&Q will notify you whenever you can collect the order. You can go to the store and collect only when you have received a confirmation that your order is ready to collect.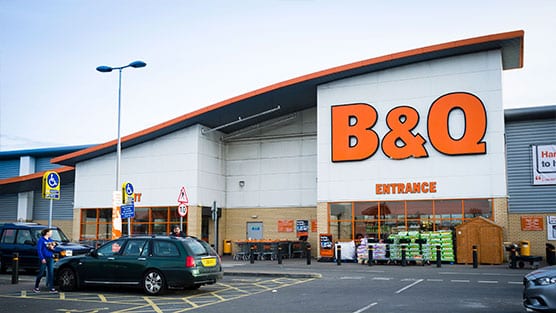 Delivery options
B&Q is offering a next day delivery for many of their products and you need to place an order by 7 pm so it can be delivered to you the next day and 4 pm on Sunday.

If the next day isn't suitable for you then you can even choose any dates within the next two weeks. The delivered items will be placed on your front door and the bell will be rung after which the driver will maintain a far distance from the package till you come outside to pick up your item.

This is done so the package can be kept an eye on till it is received by you. You will also not be required to sign for the delivery. Instead, the driver will validate the delivery and sign it on your behalf once you pick it up.

These changes have been made to ensure that everything is delivered in a way that is safe for you and their employees. We are not in a normal situation and so these extraordinary measures are taken for the good of everyone involved.

Everything also varies from branch to branch especially the items that are in stock. Although you will be notified to avoid any problems or delays. If you want to visit or deliver from B&Q this is all the information you will need!

'; echo '