During the COVID-19 restrictions Canadian Tire are now operating at adjusted store hours, so stores that usually closed later are now closing at 6 pm, while opening hours seem to be unchanged, but may vary by stores.
Canadian Tire Hours

MONDAY
8 AM - 6 PM
TUESDAY
8 AM - 6 PM
WEDNESDAY
8 AM - 6 PM
THURSDAY
8 AM - 6 PM
FRIDAY
8 AM - 6 PM
SATURDAY
8 AM - 6 PM
SUNDAY
9 AM - 6 PM
Canadian Tire hours for opening tend be one of two times depending on the location of the store. For the most part, their opening hours begin at 9 am from Mondays through Saturdays, with Sundays opening hours being a little later at 10 am.
While most stores feature these times, others can open earlier throughout the week, with opening certain Canadian Tire hours beginning at 8 am Monday to Friday and 9 am on Sunday.
Canadian Tire Holiday Hours
Stores may be closed for both provincial and federal holidays, though more often they are simply shorter hours. As Canadian Tire hours vary even now, it is important to check your local store hours for what time they open.
Canadian Tire Near Me
With the near me map, you can locate any of Canadian Tire store in one click:
To locate Canadian Tire nearest to you and check the hours simply select the store in the drop down next to the search bar at the top of the website, and it will list stores close to your location. Stores can be chosen from list view or from a map and will list not only store hours but also services provided, location, and contact information.
Canadian Tire online orders can be delivered to the home through regular shipping methods, or picked up with a free curbside pick up option. This allows for orders to be placed online and picked up within 24-48 hours (there may be delays due to increased demand during the COVID-19 pandemic). An email will be sent with details on when and how to pick up purchases.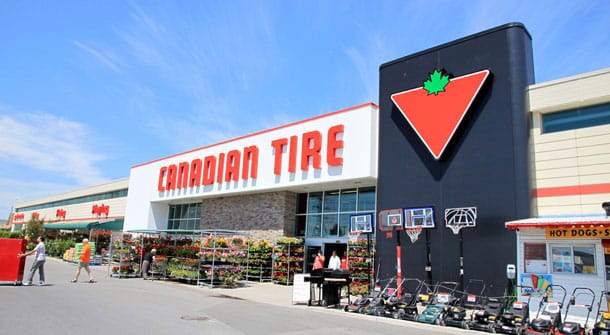 Canadian Tire is a well known supplier of home, sports, and automotive needs. Consumer testing ensures quality products can be supplied and shopping can be done online for pick up or delivery as well as in store. To better serve their customers the brand has extended into some financing options with the Triangle credit cards. With automotive repair bays in store, not only can car parts be purchased, but also installed on site, along with regular maintenance.

Customer service is available by phone and pick up and delivery orders have increased to such levels that while there will be delays for some, they are also accepting orders over the phone as well as online.

To assist their communities during this time Canadian Tire are donating protection equipment to hospitals and hospital staff when they are able, and have set up a system to help obtain and deliver these supplies as they become available. There is an area on the website to apply for this assistance.

Social distancing will be in place during line ups, check out, and for pick up choices. Supplying items and services that are considered necessary ensure they will remain open during this time.

'; echo '