TD Bank hours of operation are notable for the fact they differ from most other banking establishments. They tend to operate for much longer than others, and they are even opened on Sundays, which is relatively unheard of for a bank.
| | |
| --- | --- |
| MONDAY | 8:30 AM - 5 PM |
| TUESDAY | 8:30 AM - 5 PM |
| WEDNESDAY | 8:30 AM - 5 PM |
| THURSDAY | 8:30 AM - 7 PM |
| FRIDAY | 8:30 AM - 7 PM |
| SATURDAY | 8:30 AM - 3 PM |
| SUNDAY | 11 AM - 3 PM |
What time does TD Bank Open?
When it comes to TD Bank hours of operation, their opening times can vary from location to location. This won't be much of a difference, as most branches will open at either 8 am or 8.30 am and these times are earlier than most other banks too.
Sunday is different to this, as they open slightly later at 11 am.
What time does TD Bank Close?
The closing times for TD Bank's hours of operation are more varied than their opening times. Mondays through to Wednesdays will see branches close at 5 pm.
Thursdays will see a change for closing times, as they are extended to 7 pm and will close at these times on Friday too. Some TD Bank locations will close at 8pm too.
Again, Saturdays and Sundays differ from the rest of the week, which will see their banks close at the earlier time of 3 pm.
Sundays are usually open between 11 am and 3 pm, but not every branch will be opened on this day. As many TD Bank locations are closed on a Sunday, it is best to check individual locations should you need to visit a branch on a Sunday.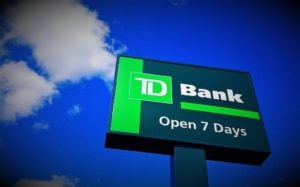 What is TD Bank Holiday Schedule?
You can find that TD Bank Hours of Operation on Holidays may vary:

TD BANK HOLIDAY SCHEDULE

MONDAY, JANUARY 15
Martin Luther King Jr. Day 2018
CLOSED
MONDAY, FEBRUARY 19
President's Day 2018
OPEN
SUNDAY, APRIL 1
Easter 2018
CLOSED
MONDAY, MAY 28
Memorial Day 2018
CLOSED
WEDNESDAY, JULY 4
Independence Day 2018
CLOSED
MONDAY, SEPTEMBER 3
Labor Day
CLOSED
MONDAY, OCTOBER 8
Columbus Day 2018
OPEN
MONDAY, NOVEMBER 12
Veterans Day 2018
OPEN
THURSDAY, NOVEMBER 22
Thanksgiving in United States 2018

CLOSED
MONDAY, DECEMBER 24
Christmas Eve 2018
CLOSED
TUESDAY, DECEMBER 25
Christmas Day 2018
CLOSED
MONDAY, DECEMBER 31
New Year's Eve 2018
CLOSED
MONDAY, JANUARY 1
New Year's Day 2018
CLOSED
TB Bank Locations

To find all TB Bank locations, including which ones operate on a Sunday, simply visit their website to search locations to find all TD Banks hours of operation. You will also be able to find the TD Bank customer service number on their website too, along with any individual branches contact information.